When I was a public school teacher, I longed for year-round school.
Other teachers told me I was crazy…they loved their summers off.
But I knew in my gut I could make it amazing.
I've been blessed in our homeschool setting to prove just that.
In this article, I want to share six reasons we're grateful for year-round homeschool.
I hope it gives you hope in your schooling situation, wherever you may be.
1. Mental Break
We school four weeks, then take a week-long break.
With this schedule, we school many more days than the typically schooled child.
But it feels like so much less.
That fifth week is amazing for the kids and for mama.
It's like a fresh start every time!
The mental break is beyond helpful.
However, the overall mindset shift might be my favorite part.
Waiting until the next extended break while I was teaching was such a drag. We don't experience that anymore!
2. Travel Year Round
Hiking, mini-trips, or even exploring our surrounding area has been so fun.
Especially when we're not confined to the school year.
I had no idea how much there was to do out there in the other 3 seasons!
We've had a blast.
No long lines, and we can bring all the homeschooling friends we want?
Win!
We also get homeschool discounts in lots of places, too.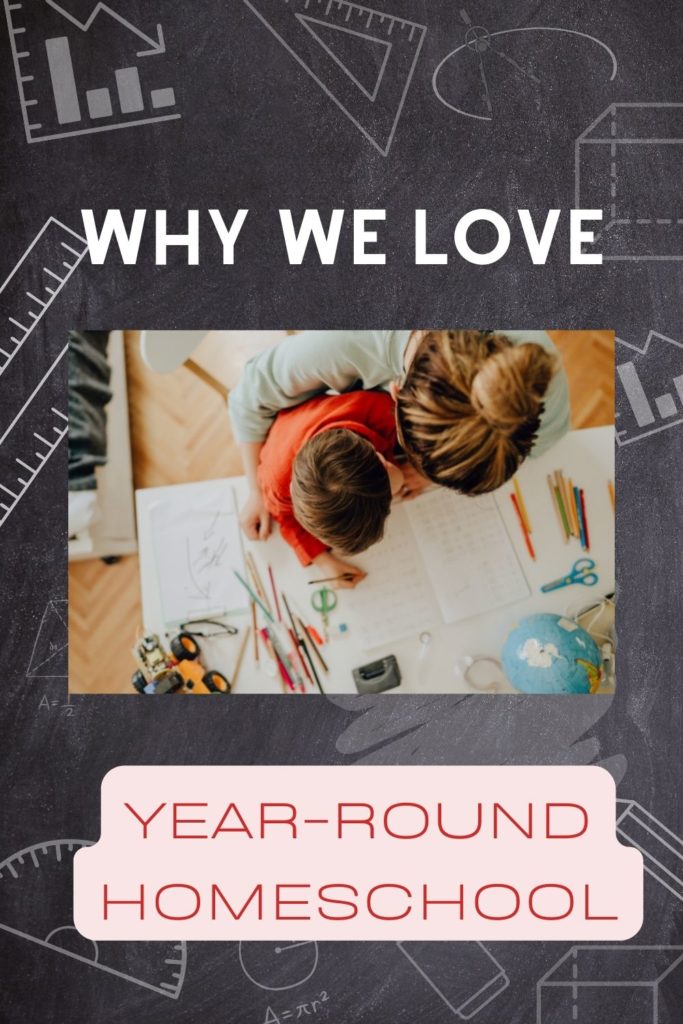 3. Nix the Summer Gap
The one thing I hated most as a teacher was how it never seemed like anything stuck after summer vacation.
My new students sat there in August, year after year, with a whole lotta nothing in their heads.
That summer gap is for real, y'all.
We don't have to experience that anymore with year-round homeschool.
I see their skills and building blocks growing stronger in every four week session, and it's so exciting!
They're much more confident.
We waste no time reviewing because everything is always fresh.
Best of all, their excitement for learning doesn't fade.
4. What About Schooling While Friends are Off?
People ask me this all the time.
But they forget one important little detail: homeschooling is flexible!
We're at the pool, out back with the neighborhood kids, and spraying each other with the hose just as much as all the other kids.
There is one thing we don't have though: summer boredom!
Schooling is what happens around life.
This means when everyone is tired of the heat, thirsty, or hungry, they're inside learning!
We also really enjoy schooling outside. The trampoline, swings, treehouse, and a blanket in the grass are some of our favorite spots.
Our days are so full and fun all summer long!
5. Our Kids are Invested
It was harder when we knew our next extended break time wasn't for another two or three months.
Especially when you're little…everything takes forever!
It's amazing to see their ability to jump right back in after a nice week-long rest.
We said goodbye to the drag of waiting for the next break.
6. The Children Make SUCH Fun Plans!
It's exciting to encourage and assist in our boys' fifth week plans.
Where will we go?
Do we need rest and relaxation doing a whole lot of nothing?
Or would we enjoy lots of outside time or a quick trip somewhere?
They can help us budget, map out hikes, and pack the essentials.
It's an amazing way to train up adults who are cognizant of the balance between work and rest .
Final Thoughts
I pray this finds you excited or at least interested.
This has added such an element of fun to our homeschool experience.
Would you try homeschooling year round?
Have you done it before with a different schedule?
I'd love to hear what you think of this in the comments below!
[jetpack-related-posts]