This Will Impact Your Life Forever
A proactive lifestyle just will. 
Our family will never be the same–praise God!
We had no idea what we were doing to our bodies in this generation or the next, and I'm willing to bet that neither do you. 
Break Your Rut
Facts you must know:
26 seconds after exposure, measurable amounts of toxic chemicals are found in the body.
1 hour of burning a candle produces the same effects of smoking a cigarette.
100,000 untested chemicals are on the market today grandfathered in during the late 70's.
50% of the lab animals tested have to die before labeling is required for a chemical.
300 chemicals are absorbed into our body through our largest organ: our skin; 80 before breakfast.
95% of cancer is avoidable. Only 5% of cases are genetic.
You have a say!
Get out of this rut!
You are the only one in your life who can make this change for you.
WHY?
I already have products I know that work, and I hear toxin-free ones are weak or weird!
Yeah, some are.
Going out on my own to attempt this toxin-free life without Young Living first,  I was just shy of becoming the smelly kid in class–and I was the teacher!
It's not a good position to be in, friend.
To say I was skeptical of these "toxin-free products" is an understatment, but to say I've been impressed with Young Living would be even more so!
STOP LIVING A REACTIVE LIFE!
Until Young Living, I'd never been told that I had any way of preventing illness other than washing my hands, sleeping enough, and drinking water.
Then this entire world opened up where my family and I were not helpless humans anymore just waiting to get picked for the next illness.
We now have a germ-kicking arsenal!!
Everything you'll see below plays an integral part of maintaining our family's wellness!
Amazed
June 10, 2016. 
The day I ordered my Premium Starter Kit and started walking down a new path. 
A path I didn't know was even an option until then. Because someone took the time to tell me.
Now I want to take the time to tell you. 
Our future has been rewritten. 
From illness to wellness. 
And for this, I am forever grateful. 
Let's Get Started!

First Decide:Wholesale or Retail?
How do you want to buy these products?
I chose wholesale because of the discount.
What's the Catch?
There isn't one! Here's what you need to know:
No monthly fees
$50 of product per year to keep your 24% discount (if you choose wholesale)
No selling required
Then Decide: Premium or Basic?
There are two wholesale options here.
You choose what's right for you. It's all about what you want.
Premium=jumpstart.
Basic=Either a slow start or add on products to your Basic Kit to make your own custom kit.
The Premium is the better value price-wise, but what do you want?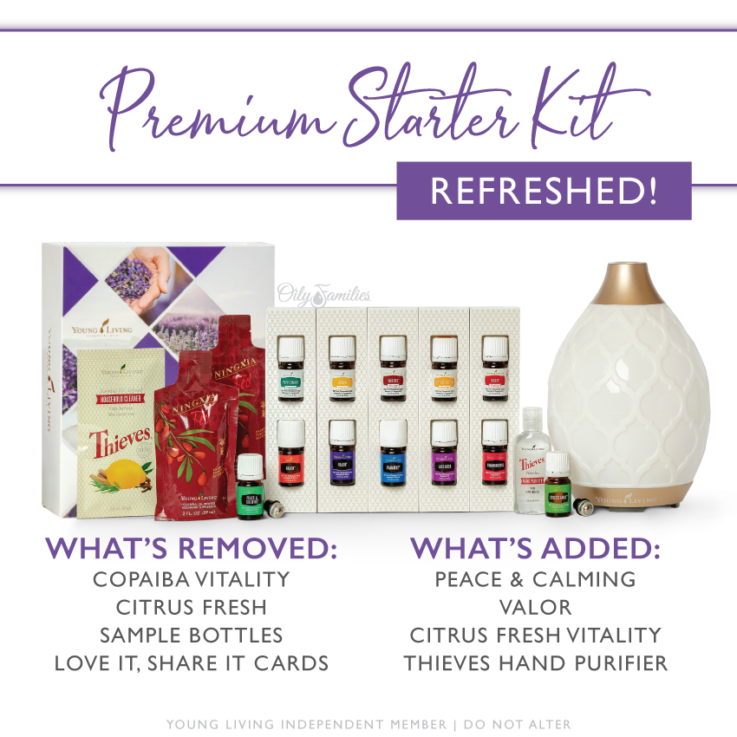 Premium Break Down
An over $400 retail value for $165.
What do you get when you choose a Premium Starter Kit?
1.) 12 Everyday Oils.
As you can see, these oils will be your new sidekick.
They will support your body in the ways you see below, which lets you remove so many organ-destroying toxins from your life!

2.) A diffuser of your choosing.
Diffusing has made such a huge difference!
We have completely turned our air quality around, and our respiratory systems have thanked us big time!
3.) Roller Fitment
This turns your bottles into these amazing and handy helpers (rollerbottles) you'll be so thankful to have!
4.) 10 Sample-Sized Bottles
I have fit up to 30 drops of oil in these before to share with those I love, used them for travel, and even put a few drops in and carried in a keychain, so I can bless anyone put in my path at any given time!

5.) 1 sample Thieves Household Cleaner
This one sample makes a large spray bottle full of multi-purpose cleaner.

6.) 2 Samples of Ningxia Red
This wellness drink supports energy levels, normal cellular function, whole-body and normal eye health.
A daily shot of 2–4 ounces helps support overall wellness with powerful antioxidants.
7.) Thieves Hand Sanitizer
Thieves Waterless Hand Purifier is a quick, convenient, purse-friendly fix for clean hands anywhere.
From the classroom, to the airport, to the grocery store, and anywhere in between this fits right into your new, safe lifestyle.
Infused with Thieves and Peppermint essential oils, along with aloe, Thieves Waterless Hand Purifier cleanses, purifies, and soothes skin, leaving a pleasant, spicy-sweet scent.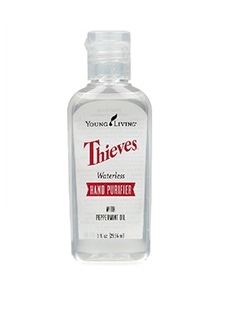 8. Product Guide and Information Booklets
I love that we get this with Premium Starter Kits!
As a new member, it's so great to browse through all that Young Living has to offer.
Essential Rewards + Premium Starter Kit is your BEST value. Read more about Essential Rewards below.
For those who need to budget more strictly, we also offer the Basic Kit.
Basic Break Down
You get the Ningxia, sample bottles, roller fitment, sample of Thieves Household Cleaner, and one oil-Stress Away.
Essential Rewards Goodness
Essential Rewards is going to be the best way to maximize your benefits in this healthier lifestyle.
I didn't think I needed this in the beginning, but when I realized I was replacing the toxic bottles in the store for these, Essential Rewards (or ER for short) was the absolute best option!
I always tell new people to make a list while looking through the Product Guide, making a plan for $50, $100, $190, $250, or $300 orders depending on your budget.
From the $100 order on, you will get free product. Check out this example below: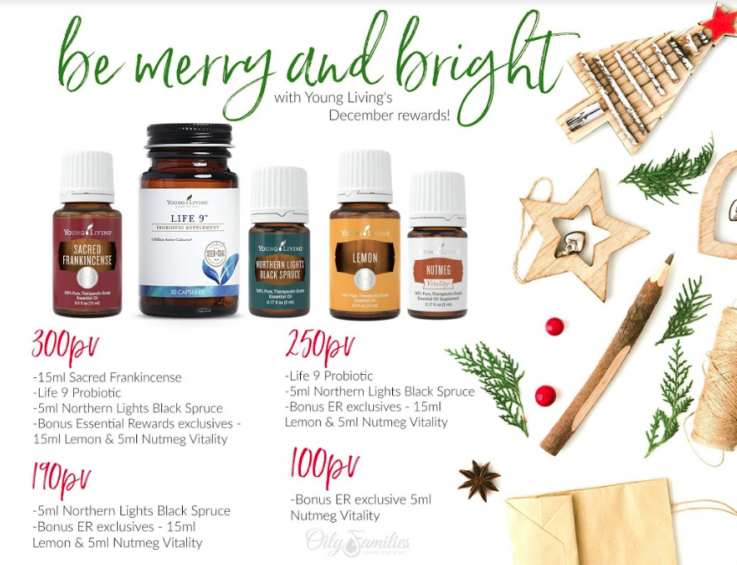 Can you imagine being at the grocery when, after you checkout, someone hands you a bag full of over $200 worth of items you needed to buy anyway just as a thank you for being a loyal customer?
That's exactly what Essential Rewards feels like!
Essential Rewards is how our family went toxin free SO fast and began this lifestyle.
Directions for How to Get Started:
Use this link to enroll with the directions from the video below. 
For video directions click here.
Written Directions:
Choose your language and then "Become a Member."
2.  Click "Become a Member."
This is if you want to become a wholesale member and take on the Young Living toxin-free lifestyle. Retail is on the opposite side.
3.  Under "Membership Details" my information Andrea Marshall 3929342 should already be filled in for you.
If not, click "Who introduced you to Young Living?"
Select the option: "I was referred by a Young Living member, and I have his/her member number."
When prompted, enter my member number (3929342) in BOTH boxes: sponsor *and* enroller ID.
Select your desired country and language, then click "next."
4. Enter your personal information.
Write down the username, password, and pin somewhere so you'll have it for reference later on.
Enter your tax information as a legal requirement for wholesale members.
Accept the terms of agreement when you're ready.
5. Pick your starter kit.
The Premium Starter Kit with Diffuser is what I wrote about above. It should be the first option on the page and already selected for you.
Want to compare diffusers? See graphic above.
You also have the choice of Ningxia Red or Thieves  kits.
6.  "Essential Rewards"
This has been so valuable to our family!
I highly recommend choosing it right as you sign up. I waited and wish so badly that I didn't! 25% back on product is a beautiful thing, my friends! No store has ever done that for me!
So, I use this to switch from toxin-filled junk at the store for Young Living Seed to Seal products, and I save tons because most everything can be stretched/diluted!
You can always cancel whenever you'd like, but with as much free product you get, I'm willing to bet you never will!
Once you've completed this member sign up procedure, I'll contact you to help map out your specific family needs for your new lifestyle, answer any questions one-on-one, and see how to custom fit your Essential Rewards orders for you.
7. "Add more products to enrollment order."
Thieves Household Cleaner is always a wonderful add-on, especially if you're looking to create a non-toxic home (windows, floors, counters, sinks, tables, showers, toilets…).
Toothpaste and oral care is another great addition to this lifestyle (I suggest the 5 pack if you have a family to avoid spreading germs). Aromabright is our family favorite!
Thieves Laundry Soap is a simple way to improve your home's air quality (and ditch those dryer sheets–fast!).
Thieves Dish Soap and/or Dishwasher Detergent is another fantastic swap to keep toxins off your plates and out of your bodies!
If you add enough to reach 190PV (it says PV in your cart) you will earn the free monthly oil promotion.  Otherwise, select "Enrollment Checkout."
8. Â Check out.
What's Next?
When I see you have everything settled, you can expect the following:
You can follow me on Instagram for quick and easy toxin-free tips. Click here to follow now!
Take a free e-course for all of my members
Adding you to my friends' pages for additional resources
A class to teach you about next steps for this lifestyle
Enjoy a welcome kit full of great starter information and samples
I add you to my monthly mailing list where I send you tips, promotions, and additional education on these oils we love so much!
I look forward to meeting you and helping you on your journey toward living well. 

Many Blessings, 

Andrea

[jetpack-related-posts]