Young Living March 2020 Promotions!
Young Living March 2020 Promotions are amazing.
You're going to love them!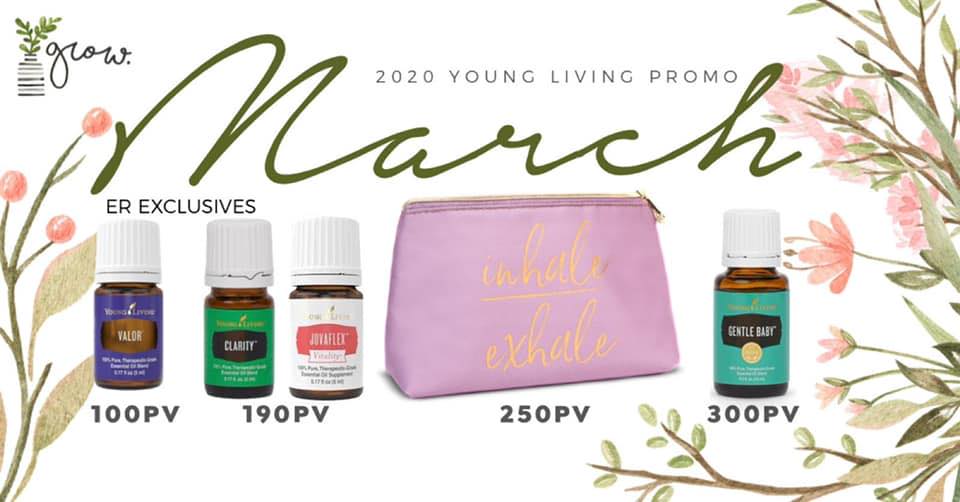 Bag
Can we just pause for a moment and look at how cute that bag is?!
How perfect for spring!
I am excited to give mine to the first new member signing up with their Premium Starter Kit and Essential Rewards using this link in March!
Valor
Valor is commonly referred to as a chiropractor in a bottle.
While I'd never trade it out for an actual chiropractor all together, it has gotten me through some rough times for sure.
This is also an amazing oil to help your emotions and bring courage.
Clarity
Clarity is one of my favorites!
It helps me stay focused and gives me a little energy boost.
I also like to rub it on my temples if I feel the start of a headache coming on.
JuvaFlex
JuvaFlex provides liver support.
It is said that the liver is where we store anger and hate.
Whether you believe that or not, we can all agree it's a super important part of our health, and we must take great care of it.
JuvaFlex in a veggie capsule will be so kind to your liver and therefore your overall health!
Gentle Baby
Gentle Baby is great for your skin, calming your emotions, and will be something I use on my "mama marks" for sure when my free bottle arrives in a few days!
Thinking of Getting a Premium Starter Kit?
This is your month!
With each new member's Premium Starter Kit and Essential Rewards combo in March, you'll get the free bottle of Valor promotion plus a free bottle of Lavender lotion!
That's just one more quick ditch and switch to a safe product right away!
Know Friends in Need?
When you share with two friends this month, Young Living will give you a $100 thank you check and a 15mL bottle of Dream Catcher.
When you share with four friends, Young Living will give you a $200 thank you check, and you'll get a lava bead bracelet and special Celebration blend.
Think about it.
You help four new families have four generations of health and wellness and you get a big thank you.
How amazing is that?
Not a Member Yet?
Click here and get your Premium Starter Kit with Essential Rewards.
Remember, you'll get a free bottle of Valor and a free bottle of Lavender lotion as a welcome!
Final Thoughts
I love how Young Living goes out of their way to do these wonderful things for us.
Incentives are fun, but knowing you're helping families learn about the only pesticide and synthetic free way of living is such a gift!
Thank you, Young Living for being the best of the best!
[jetpack-related-posts]