How to get Young Living Essential Oils and the amazing freebies is simple!
I'll walk you through how in this post!
High Value, Lower Cost
By now you've read about our journey with essential oils and why it absolutely had to be Young Living.
Maybe you could picture yourself making the switch to this new lifestyle after following our family through a day in our oily life.
However you landed here, know you're in the right place for a healthy change and to save tons of money compared to your old, toxic lifestyle.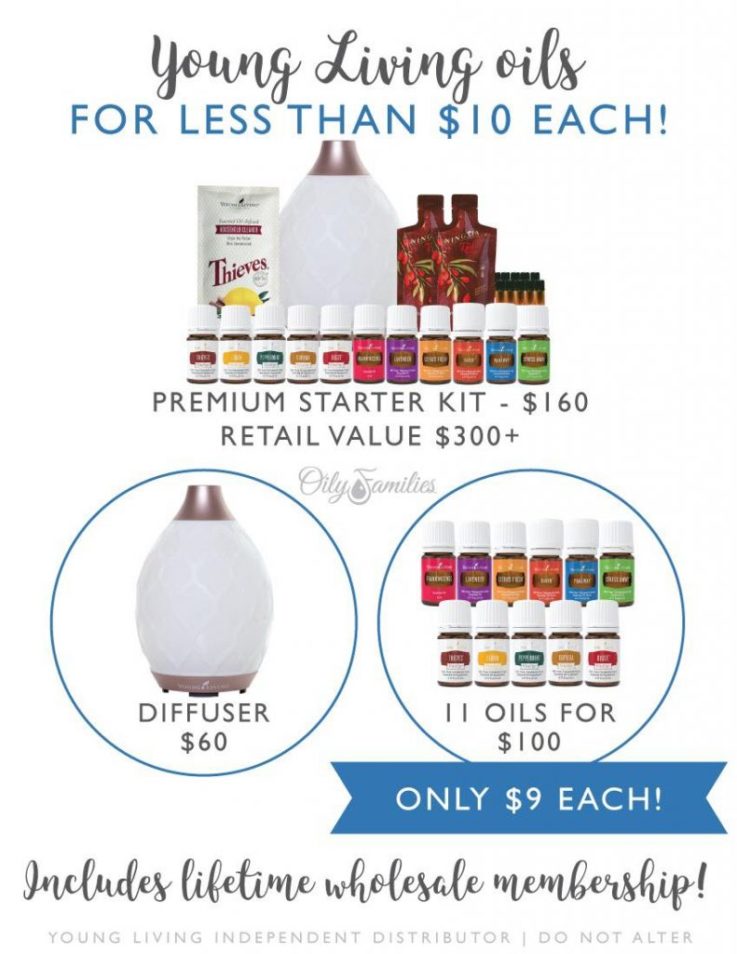 First Decision: Wholesale or Retail
We were so sick of putting bandaids on everything and were ready for a real change.
Because we didn't want to be roped into anything where we were forced to sell or spend any certain amount, we made Young Living fit our lifestyle.
Retail means to buy at full price.
Wholesale gives you discounts and the ability to choose the monthly program to budget (which you can read about here).
Becoming a Wholesale Member
Wholesale makes the most sense if you're looking for more than just an oil or a bottle of Thieves Household Cleaner.
You've got a few different kit options here: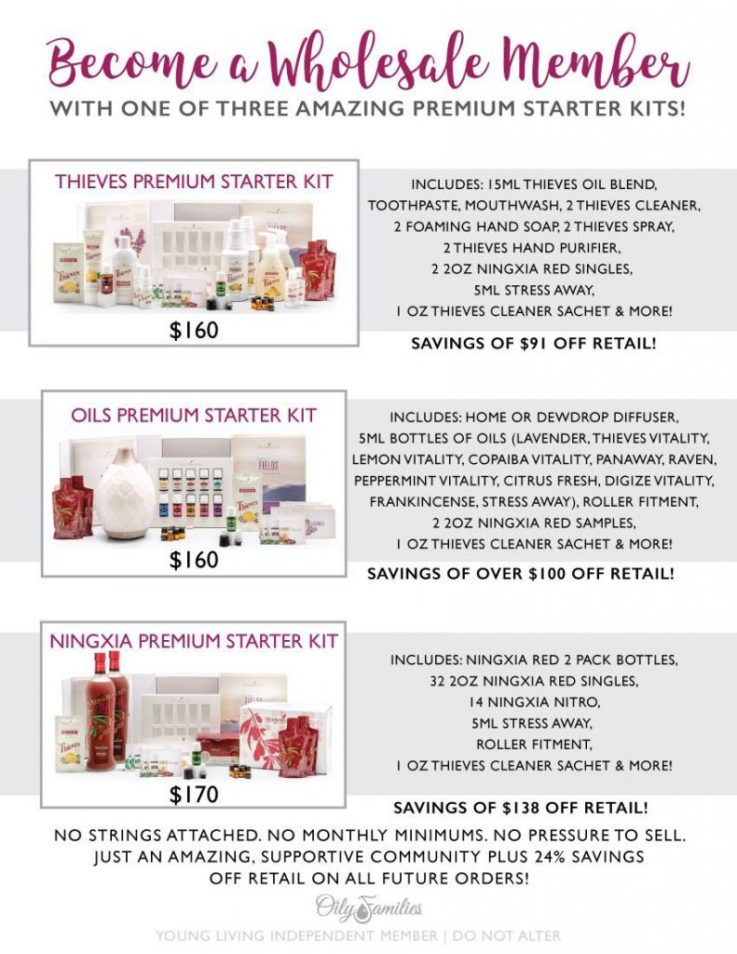 Diffuser Choice with Kit
If you choose the oils kit, you can pick a diffuser.
Here's a quick break down of each, so you know which you'd like to choose. You get the diffuser FREE in the Premium Starter Kit!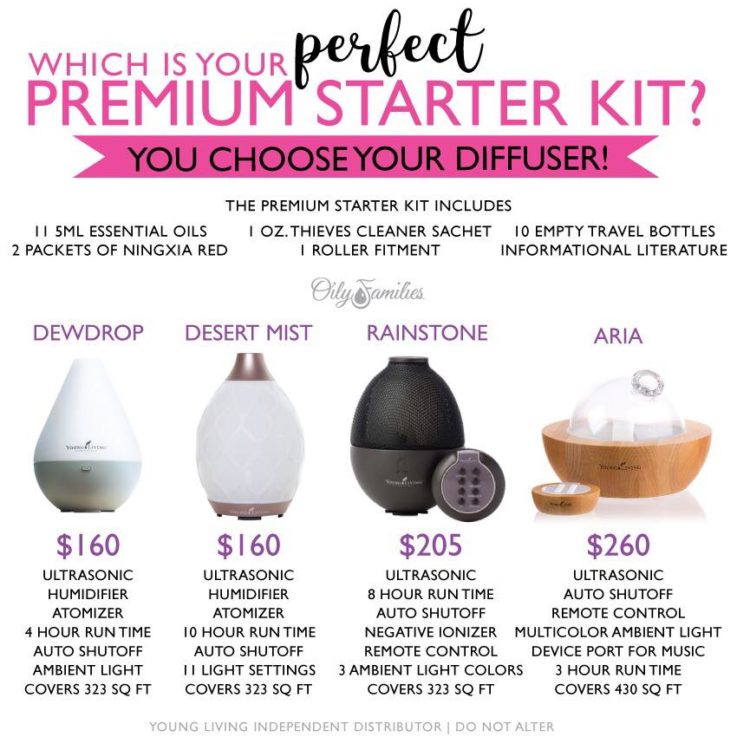 Key Words You Need to Know
When learning how to get Young Living oils, there are a few words to know.
Wholesale: Save 24 – 44% off retail pricing on Young Living products.
You can save even more with exclusive specials every month.
There are no monthly minimum purchases with the wholesale discount, and you never have to sell anything to anyone.
Essential Rewards: If you choose wholesale, you're eligible to enroll in the Essential Rewards program and earn as much as 25 percent back from each order in the form of points.
These points can be used like cash to get free products!
Farm Visits: No other oil company gives you the opportunity to experience our Seed to Seal process with a visit to their farms like Young Living does.
You're welcome to show up at any Young Living farm anywhere in the world, anytime! I love being on a YL farm. It's an amazing experience I highly recommend!
Strong Community: At Young Living, you'll have a close-knit community of support.
In addition to me, our Young Living family is ready to hear your questions.
When you use this link to get started, you'll get a welcome text and an invite to join our private, members only groups on Facebook.
It's a great way to learn at your own pace alongside likeminded people.
You can ask questions, get recipes and tips, and snag exclusive education found nowhere else!
Education: Young Living provides ongoing educational opportunities through events, newsletters online, and in person to keep you informed and assist you in your wellness progress.
I also provide private classes.
Ask me how you can attend anywhere in the world, for absolutely free!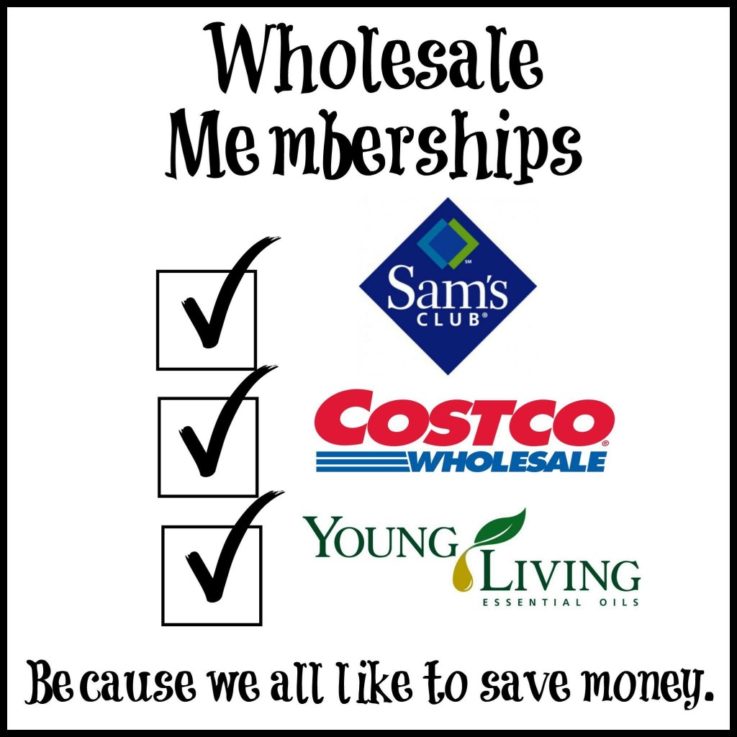 If You're Ready to Purchase, Here's How:
1. Head over to the Young Living page here and fill out your information.

2. Make sure "Wholesale Member" is checked so you don't end up paying retail prices.

3. Be sure the "sponsor ID" and "enroller id"say 3929342 so we can stay connected, and I can get you hooked up with all the freebies! You'll see my name, Andrea Dawn Marshall there, too.

4. Select which starter kit you want to get. My recommendation would be the Premium Starter Kit. I use these oils routinely!

5. Go through the checkout process.

BONUS Step 6 (COMPLETELY OPTIONAL!)

Start getting YL freebies now!

Here's an example of what our monthly freebies look like, but the point amounts are always the same for being eligible for the free products each month: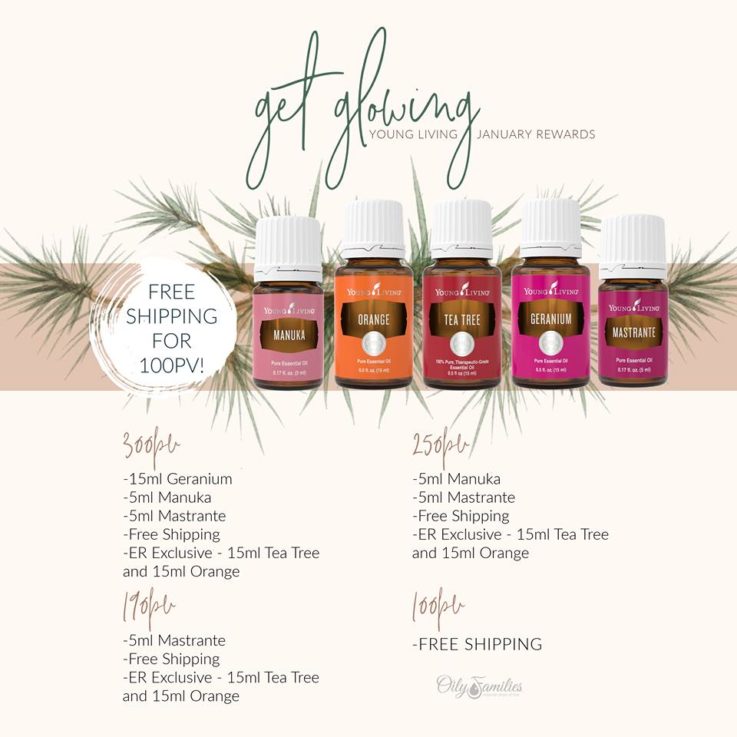 Frequently Asked Questions
DOES SIGNING UP MAKE ME A "DISTRIBUTOR"?
Nope! You aren't ever required to sell.
When you become a wholesale member, you get a special link you can share with friends and get credit from their purchases, but there are no minimum sales amounts if you choose to use it.
In fact, 90% of the wholesale members in Young Living don't do the business side at all. They're buying from Young Living because of the quality.
WHAT ABOUT MINIMUM PURCHASES?
There are NO minimum monthly purchase requirements.
To remain a wholesale member, you have to make $50 worth of purchases per year to keep your membership.
But if there's a year that you don't make a $50 purchase, you can reinstate your wholesale membership discount by just placing a $50 order.
If you do find yourself making regular purchases each month, then Young Living has a rewards program (called Essential Rewards) where you can make a nice percentage back in product credit each month on all of your purchases.
So that's a great program to join if you find that you *want* to purchase regularly (but it's not a requirement for being a wholesale member).
WHY SHOULD I BUY FROM YOUNG LIVING INSTEAD OF OTHER ESSENTIAL OILS COMPANIES?
It does seem like a new essential oils company pops up every day, doesn't it?
I can't speak to the quality of other companies, but I can say that Young Living was the only company in my research of essential oil companies that could answer all of my questions about purity in a way that was satisfactory to me.
Young Living was the only company that:
Has their own farms (in the regions where the plants should be grown)
Could guarantee that no pesticides or herbicides were used in the growing of any of their oils (they use essential oils for pest control and they do all of the weeding by hand). Organic is not pesticide or herbicide free. It's a step down.
Has their own testing equipment (they do both in-house and 3rd party testing, and use many different testing methods not just GC/MS which only tests for certain chemicals, not whether those chemicals are synthetic or not)
Only uses the first distillation of oils instead of adding chemicals to get more out of the plant.
Young Living also was the only company that was directly in charge of essential oil farming operations.
Every other company I researched goes through some kind of an "oil broker" to buy their oils. Even if they're "sustainably sourced," that's not something you want.
They have to trust that the oil broker is telling the truth, who has to trust that the essential oil distilleries are telling the truth, who have to trust that the farmers are telling the truth about what they say they are doing.
With Young Living, you just have to trust one company instead of several.
I felt the most comfortable trusting Young Living since they're a full-disclosure company.
ANYONE can visit the farms, participate in the harvesting and distillation, view the Young Living labs, and see the entire process. That's not an option with any other company!
HOW WILL I KNOW WHICH OILS TO USE FOR WHAT?
One of the benefits of getting a starter kit is that you also get to join our private Facebook group that's specifically for questions about essential oils!
My weekly usage tips and recipes will text straight to you making life even simpler!
DOES YOUNG LIVING ONLY SELL ESSENTIAL OILS?
The answer to this one was surprising to me when I first got my starter kit!
Young Living uses their pesticide-free, synthetic-free, fragrance free, people over profit model to create over 600 lifestyle products.
Most all of these are concentrated, so it's like buying bulk in small bottles saving you lots in the process.
Thanks so much for reading and please email me at andrea@graceblossoms.com for any other questions!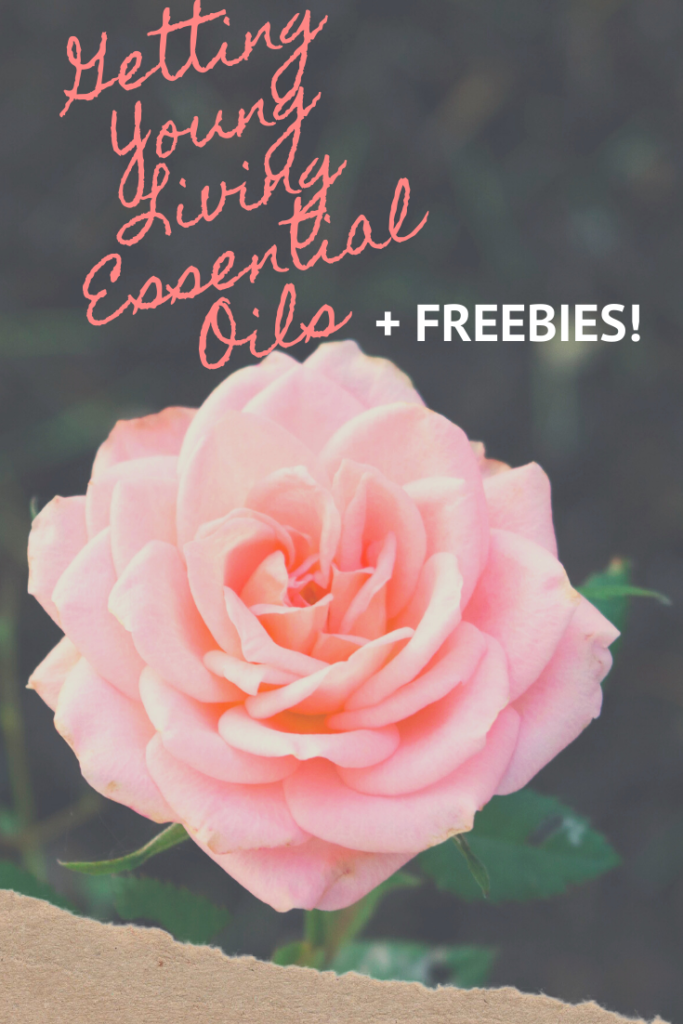 [jetpack-related-posts]