One of the biggest issues I hear when it comes to living this toxin-free lifestyle are the upfront costs, so let's go over some real-world pricing .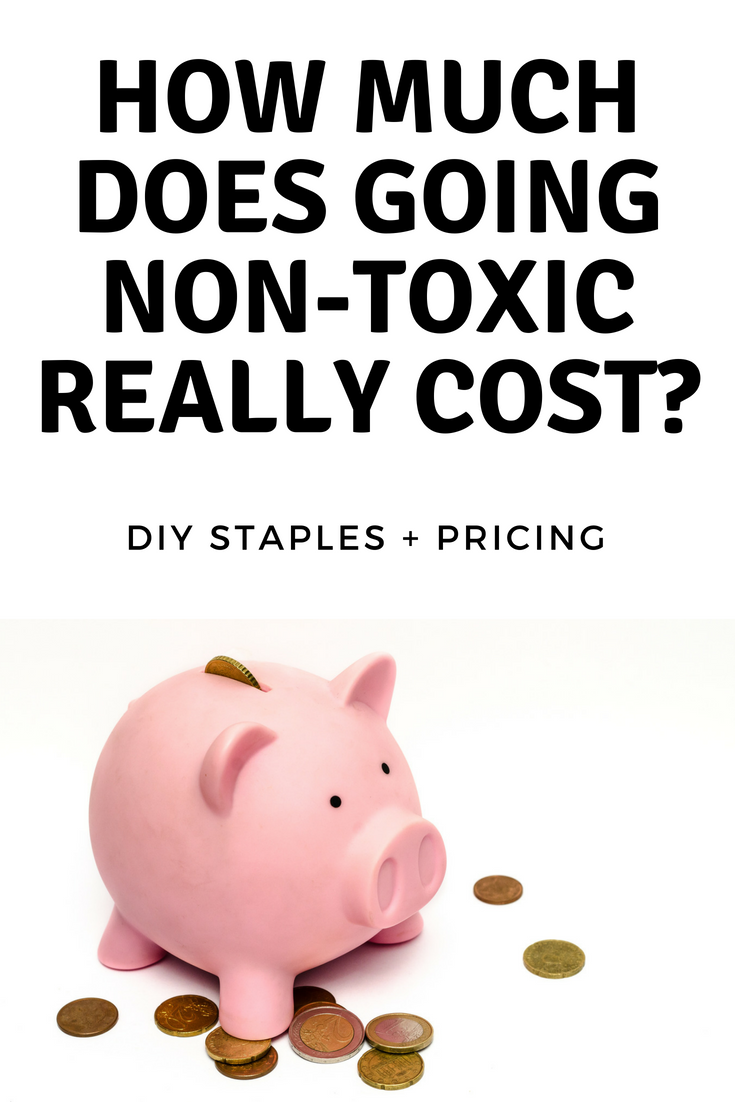 We've already nailed down how much each of our toxic products cost (minus doctor visits for what it does to our bodies), and we've added that into our budget, so how do we make the switch without breaking the bank?
What's even harder to figure out is how we're going to front this cost while still buying the toxic products as we wait to gather the non-toxic.
I've created this list of what is used the very most in common recipes and some average pricing that comes along with it, so you can budget out how to get started on this cleaner, healthier life.
(If you haven't gotten your 24% discount on all toxin-free nonGMO products yet, click here: Young Living Starter Kit)
One Stop Shop
If you're looking for one place to find everything you need to DIY, click HERE.
I've gathered links and pictures to everything in one place for your convenience!
DIY Staples + Pricing
I get the big tub because this is such a necessity for so many recipes. I also use it for cooking or popping popcorn, so it makes sense. Also, every time I pull it out, I only need a couple tablespoons, so it lasts a good, long while.
First, let me give you some advice.
You may see an opportunity to save some money by getting the beeswax bars. Save yourself! Don't do it!
My friend, Laurie and I got a good laugh out of our frustration from trying to slowly chip away at and shave a block of beeswax once, and while it was surely funny, in the end it was something that wouldn't have been quite so hilarious if I was in my own kitchen trying to make it just another part of my day.  Trust me. Get the pellets.
I also find this to be such a great money saver because again, I can get so many uses out of this beeswax bag, and the recipes make so much that I save a ton in comparison to buying any in-store organic or toxin-free options! For example, 3 tbs. of beeswax will make 30 tubes of chapstick. Talk about savings!
Oh my goodness, do I ever use the heck out of baking soda!
However, it's only a small amount at a time, so this 4 lb. bag really lasts a good, long time!
Shea butter, how I love you. I only use such a small amount in recipes that stretch for so long that I maybe only buy shea once or twice a year!
Again, I use such a small amount each time, but the products I make with it last so long that I come out ahead every time!
TOTAL: $63
Recipes Using the Staples
Sun Lotion
Three Ingredient Lotion
Self Tanner/Bronzer
Non-Toxic Handsoap
Deodorant
Dishwasher Detergent
Powerful Grease-Cutting Dish Soap
Laundry Detergent
Fabric Softener
Baby Wipes
Makeup Remover
Best Chapstick Ever!
Face Wash
Shaving Gel
Real Life Uses
As I shared in my Step-By-Step Toxin-Free Living guide, I choose to mix my DIY with in-store and Young Living purchases.
I do this for both convenience as well as current needs.
For example, having all the ingredients I need for sun lotion (screen) is super important to me with two little boys and skin myself that burns easily. I hate running out and getting to the store just to find the toxin-free options are sold out or way over priced.
On the flip side, I cannot find a conditioner in the store or in DIY form yet that can match Young Living's Lavender Mint conditioner. Seven months into this 10 oz. bottle with my horse's tail-like head of hair, I'm shocked at how well it's stretched, so why not earn 25% back with a 24% discount on a product that I love?
Finally, I choose to buy something like shampoo because I've yet to find one that fits my crazy hair like this one. However I do make sure I use my ewg.org app. each time I pick up a new bottle just to make sure it hasn't undergone any changes in formula that will make it toxic.
Final Note
These are simply the staples and pricing. The ingredients that we use time and again.

Of course there will be others that come up often like washing soda for cleaning or vitamin E for skincare, but my advice no matter what is this: go at your own pace.

Not sure where to start?

[jetpack-related-posts]