Safest Face Washes
This cystic acne fighting girl has been on the search for the safest face washes for as long as I can remember.
Finally.
After years of searching, trying, and failing in quite the vicious circle, I have found options that work well enough to share with you!
Uphill Battle
It was a serious uphill battle for the longest time once I decided to go non-toxic. I could find clean options, but my face just wouldn't agree with anything–until the day I found these washes.
So, why should you go non-toxic when it comes to your skincare routine?
(First steps first: If you haven't gotten your toxin-free toolbox yet, the beginning of wellness including the oils you'll need for this recipe at 24% discount, click here: Young Living Starter Kit ).
A few reasons, actually.
1.) Your skin is your largest organ. Do you want to pour junk into it twice a day?
2.) Layering toxins on your face will age you quicker.
3.) The lighter, cleaner feeling of non-toxic face wash is wonderful.
Click here to see if your current face wash is toxic.
What if I'm just not a DIY kind of person?
No worries! You have options!
You can buy your in-store and online options HERE
 . Remember that these are concentrated and can be diluted like most every one of the over 600 toxin-free products on this site.
DIY Option
The face wash recipe below is the one I love the most. It is light yet hard-working.
I love that I have all the ingredients at home, so I can make it any time I need it. Definitely a luxury to never really run out!
-INGREDIENTS-
2/3 C Rose Water

1/3 C Castile Soap

1 tsp.Jojoba Oil

1/4 tsp. Vegetable Glycerin

4-5 drops Vitamin E Oil

10 drops Young Living Lavender Essential Oil
10 drops Young Living Melrose Essential OIl
5 drops Young Living Frankincense Essential Oil
Combine all ingredients and add to a foam hand pump
.
The pump matters!
Trust me on this one…I've been frustrated too many times while using a product because I can't get it out of a rusted foam pump.
This one is the only pump that has stood the test of time in my shower!
These ingredients can be used in so many other
recipes!
The following recipes use some of the ingredients from this face wash recipe:
Non-Toxic Three Ingredient Body Lotion
Non-Toxic 2 Ingredient Hand Soap
DIY Non-Toxic Deodorant that Works
How Much Does it Cost to Switch?
So many people I speak with about living a non-toxic life are afraid it will be a more expensive way to live.
Fortunately, as you see above, once you start buying some of these universal ingredients like castile soap
and Coconut Oil
(along with some of your favorite Young Living Essential Oils like the Swiss Army Knife of oils, Lavender), you'll find you can do so much with so little!
The best part of it all is that you'll be supporting not only your family's bodies, but also generations to come.
I hope you enjoy this face wash as much as I have!
It's such an easy pour-and-go recipe, that it's become one of my all-time favorites!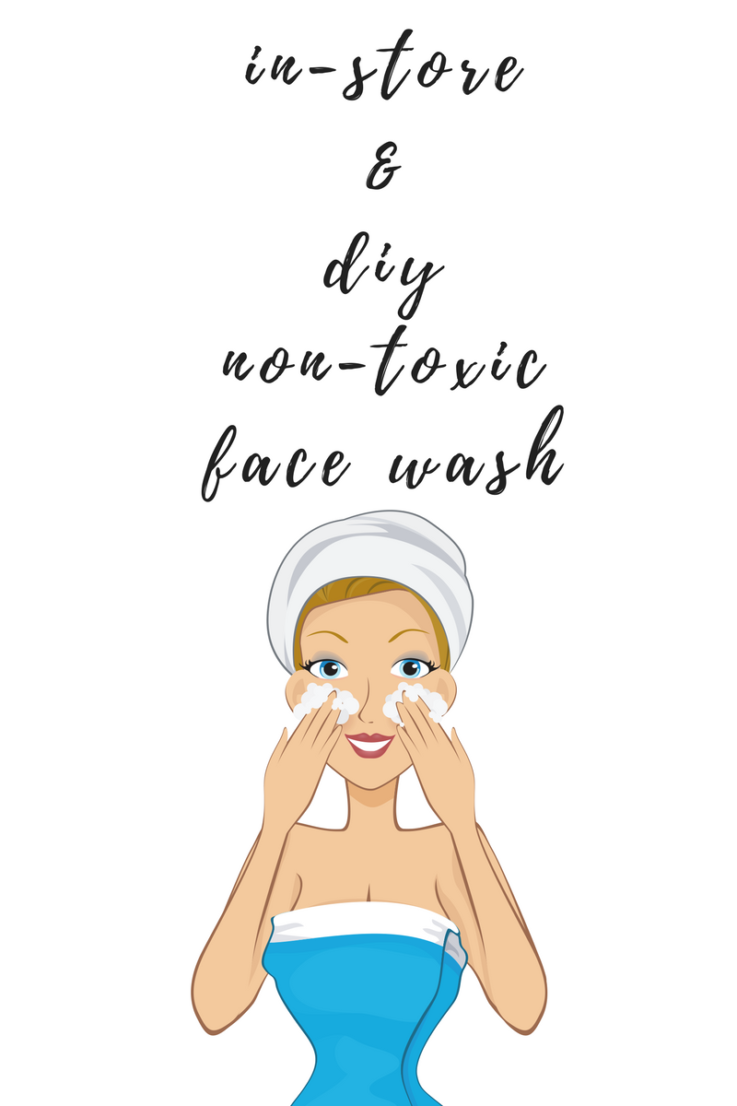 [jetpack-related-posts]