It recently hit me that if I created a monthly deep cleaning calendar that I could avoid those long days of cleaning I hate so much.
I'm not going to put anything in Sundays.
We rest on Sundays and spend time with family and go to church.
At the end of the day we'll straighten up for an easy start to the week.
We also don't do deep cleaning on Saturdays. They're for running around, hanging out, or house projects.
Get your deep cleaning calendar free printable:
Week 1 Calendar
Monday: Wash Floors (this is the best household cleaner ever!)/ or shampoo carpets
Tuesday: Scrub the tubs/showers (here's how to make it quick and simple!)
Wednesday: Oven & stove (use this easy scrub)
Thursday: Dusting
Friday: Organize office/bills and paperwork area
Week 2 Calendar
Monday: Tidy up the car
Tuesday: Wipe down cabinets
Wednesday: Wipe down trash cans and put a few drops of Purification on a cotton ball for the bottom.
Thursday: Wipe down walls, especially in bedroooms and high-traffic areas
Friday: Wash windows downstairs
Week 3 Calendar
Monday: Wash windows upstairs
Tuesday: Organize and wipe out pantry (loving these clear bins!)
Wednesday: Wipe out and organize fridge
Thursday: Wipe down baseboards
Friday: Vacuum under furniture
Week 4 Calendar
Monday: Tidy up junk drawer(s)
Tuesday: Wipe down/clean out washer and dryer (vents/traps, etc)
Wednesday: Organize coats/gloves/jackets area
Thursday: Wipe down lights/light fixtures
Friday: Organize bedroom closet/clothes. If it's the change of a new season, donate any not worn the season before (have you tried Give Back Box?).
Tips for Using Your Cleaning Calendar
Print out and

laminate it

Post in the home where everyone can see what needs done to pitch in as a team
Pre-make any

DIYs

for the month to make the time a breeze
Get

the right tools

Listen to some jams…makes it more enjoyable. 🙂
Getting the Safest Cleaning Products Ever
Read here about all of your options and read here about why it's the only safe choice out there!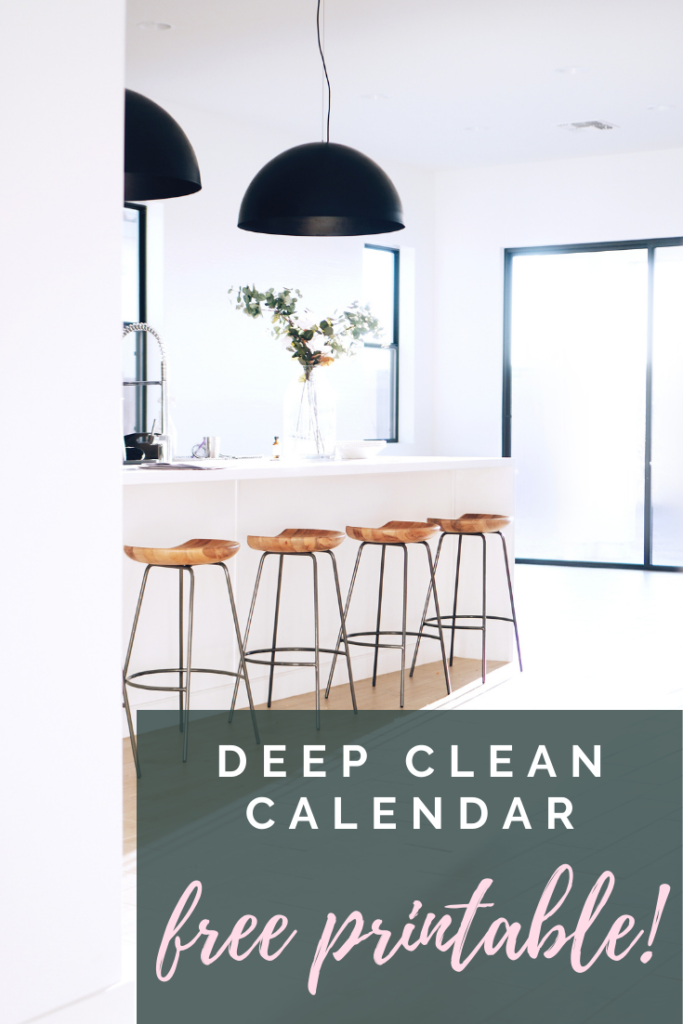 [jetpack-related-posts]