In this article, I will share the top 10 most powerful immune boosts.
These are keystone products for every home's health and wellbeing.
*Note: any underlined item is linked directly to its website for easy viewing.
Lysol and those like it are super dangerous and lower your immune function immensely
Lysol is a pesticide
Thieves Household Cleaner has zero pesticides
It kills 99.96% of germs
Thieves Household Cleaner dilutes to be around seventy five cents per bottle
*Note: Thieves Household Cleaner is a concentrate. You put one capful in a spray bottle then use around the house. This IS different from Thieves essential oil or any of the rest of the Thieves line of products from Young Living.
2. DITCH Store Sanitizers SWITCH to Thieves Hand Sanitizer
Store sanitizers harm genital growth and function
Store sanitizers are drying and harm your hormones/endocrine disruptors
Thieves Hand Sanitizer has zero pesticides or body-harming ingredients
It boosts immune and respiratory system
Thieves Hand Sanitizer kills 99.99% of germs
3. DITCH "Vitamin C" OTCs SWITCH to Thieves Essential Oil, Super C
The most popular Vitamin C OTC has 7g sugar (hugely immune lowering)
Vitamin C OTCs have coloring and "natural flavoring," which is code for not real in the least
Vitamin C OTCs have synthetic flavoring. Your body isn't synthetic, and it doesn't respond well to it. It's like kicking your immune system while it's down.
Vitamin C OTCs have corn syrup solids (um…no thanks)
Thieves essential oil blend kills bad bacteria and leaves the good. Put it in a capsule or in your favorite tea for a real immune boost
Super C is a Young Living essential oil-infused supplement.
*Note: Each bottle of Thieves essential oil at 15mL is roughly 300 drops. A 5mL bottle is around 100 drops. This really lasts and is super economical! Think about how cheap those other pesticide-filled oils are…there's a reason!! Young Living is hand-weeded, never sprayed with any pesticide, and there are zero fragrance or synthetics added ever!
4. Sleep Exercise, Organic Fruit + Veggies + Thieves F+V Soak!
The first two are easy to understand. What's up with this Fruit and Veggie Soak, though?
Organic fruits and veggies are gassed with carcinogenic preservatives while they travel across the country or as they come from other countries
You can literally see these in the water after using Thieves Fruit and Veggie Soak
The wash stretches super far and lasts a good, long time saving your health and money
*Note: Super concentrated, too. One small capful in a big bowl of water each time stretches nicely!
5. DITCH Store-Bought Hand Soaps SWITCH to Thieves Hand Soap
Store-bought hand soaps kill all germs, even the good ones you need to be well
They have synthetics, which lowers immune function
Store-bought hand soaps have fragrance, which lowers immune function
Thieves Hand Soap kills the bad and keeps the good.
Thieves Hand Soap has zero pesticides, fragrance, or synthetics
*Note: Like the Thieves Household Cleaner, the hand soap is also concentrated. I get four or five bottles out of one. Take about 2TBS of your concentrate and put it into a foam bottle like this one and fill the rest with water.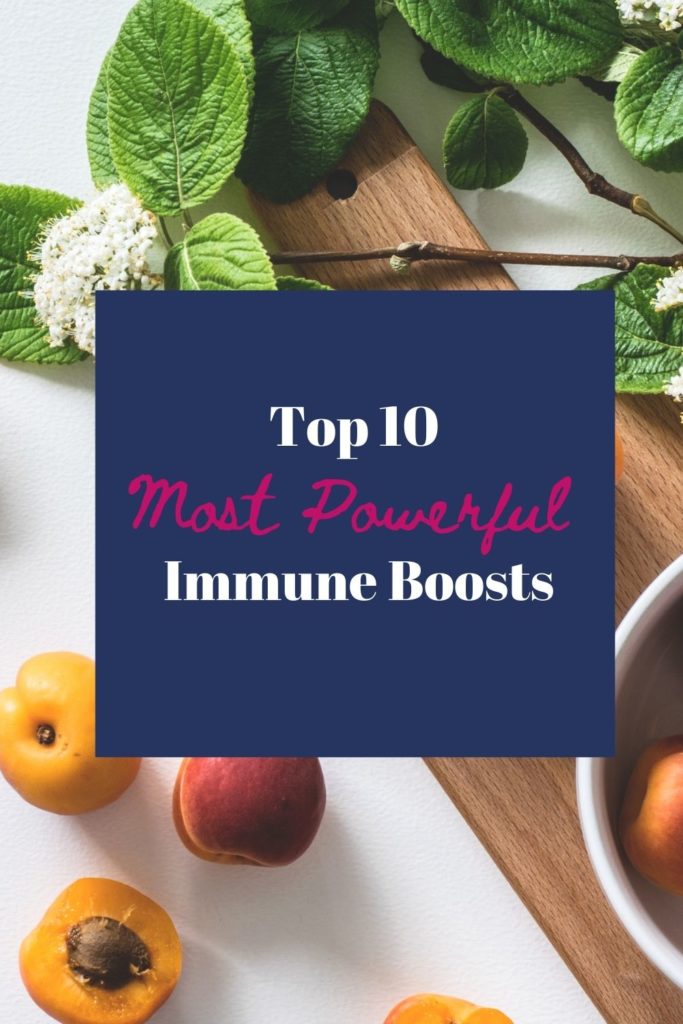 6. Minimize Stress
Stress affects the immune system.
Thankfully, there are a ton of Young Living options for reducing stress.
Stress Away, Peace & Calming, and Lavender work within your amygdala to literally reduce stress
Pray. Lay your cares at the feet of Jesus. I cannot stress this enough as a mama who has had to do this plenty of times!
Breathing and exercise
7. DITCH Store-Bought Elderberry SWITCH to Organic and Pesticide-Free
8. DITCH ALL FRAGRANCE
I cannot stress this enough.
Fragrance is one of the scariest chemicals in our homes, and we don't even know it.
Fragrance damages your endocrine system
You need a strong endocrine system to have a strong immune system
9. Bust those Unscented + Fragrance Free MYTHS
Unscented is a term for adding fragrance-masking chemicals.
Fragrance-Free is a term for using fragrance for something other than odor.
See #8 for why these don't fit the bill for immune boosting lifestyle
10. Boost Water with Lemon Essential Oil + Vitality Drops
Lemon oil is flushing.
It's immune boosting
Lemon oil is from the rind. It has a neutral pH and never damages tooth enamel.
Vitality Drops will help replace lost electrolytes and make your water taste amazing!
Young Living is the only company not spraying any of their plants with pesticides, which get into your bloodstream and wreak havoc. Thank You, God for Young Living!
Final Thoughts
The best way to make these switches is to utilize the Subscribe and Save option. This gets you 24% off and you're able to keep a slow and steady approach to your wellness.
When you spend at least 50PV each month (not a requirement, just a Loyalty program you can choose like we do!), you get points back to spend like cash on your next order.
This will help you take a huge leap toward a strong immune system.
You'll be able to ditch and switch the scary cleaners, personal care products, and fragrances!
I can't wait to hear how these simple switches absolutely transform your home from good to great!
[jetpack-related-posts]