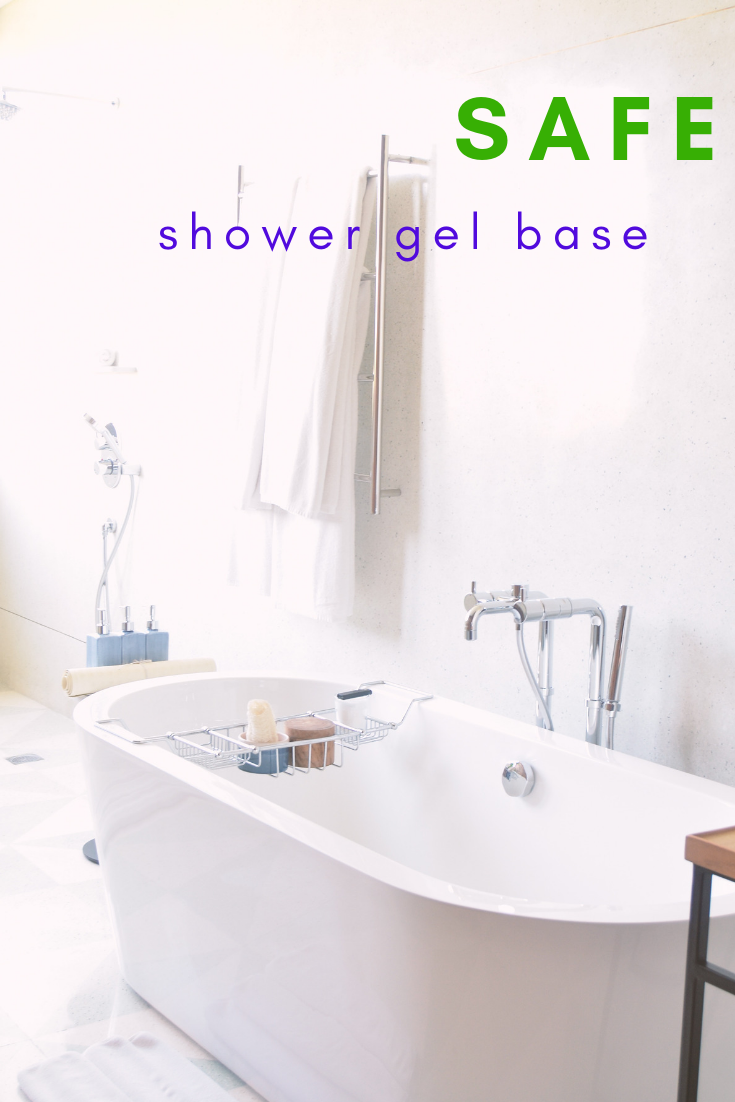 The Problem
The sketchy chemicals in shower gels disrupting our endocrine system (hello, crazy hormones!), harming our organs and even our brain is disturbing on so many levels.
The Solution
Young Living makes it so simple to have both a safe, toxin-free option in your home, and also make it in such a way that you get to tailor it to your needs.
The Shower Gel Base is perfect because you're able to take that 8 oz bottle and turn it into 8 bottles of shower gel!
It's true!
(Get your nonGMO oils and toxin-free products here: Young Living Starter Kit).
Hack It!
Here's how:
Take 2TBS of the gel base, and add it to your favorite stainless steel foam pump. Fill the rest with water leaving enough for the pump and 5-7 drops of your favorite non-GMO essential oil from Young Living to fit without it pushing out of the top when you put the pump back together.
PRO TIP: Add a pinch of kosher salt to the bottom to help the essential oil and water separate, but I always give it a little shake/swirl to mix it again before I use it.
Oily Additions
Are you a morning or night shower-er?
Are you stressed? Need to just unwind? Need help with sleep?
Or are you finding yourself someone who uses the shower to wake up, set yourself straight for the day, or feel energized for that morning meeting?
No matter what you need, there's an oil for that!
*I ONLY use Young Living essential oils because of their Seed-to-Seal promise and non-GMO label! Get yours HERE.
Here are some of my favorites to add from the Premium Starter Kit:
Wake Up: Peppermint
Courage: Valor
Joy: Citrus Fresh
Stress: Stress Away
Relax: Peace & Calming
Sleep: Lavender
What are your favorite oils to add to shower gel?
PRO TIP: Only use the stainless steel or glass options when it comes to foam pumps, especially with citrus essential oils.
Other than plastic being one of the most toxic products on this planet, the citrus oils will "disturb" them and the plastic will leech petrochemicals into your shower gel, thus making the entire effort of toxin-free gel a wash. <<Pun for sure intended 🙂
Cost
The most common misconception about Young Living products is that they are too costly for a budget.
$16.00 for shower gel base? That's insane!
Or is it?
Did you know that shopping Young Living's toxin-free products is like shopping in bulk without the…bulk?
It's true!
In this one 8 oz. bottle, you get 8 bottles.
However, like most people, I choose to be on something called Essential Rewards. I have been on this program for over two years because it's given me back over $1,300 in products in the last year!
I get 25% back on every order each month (of my choosing–what our family would've bought anyway), which makes this product, once diluted, only $1.50 per bottle!
I'm sorry y'all…that's WAY better than even the junky junk you find in the store that is rotting you from the inside out. BLECH!
Final Thoughts
If you're wondering how to get started on such a journey like our family has taken, you can read more about the Premium Starter Kit HERE.

It has been an absolute GAME.CHANGER.

Young Living always fits our tight, one-income budget, saves us a TON (did you know our school-aged kids and their parents have not been to the doc for a sick visit in over a year? Nope! Peace-out gut-ruining prescriptions and tricky schedules)!

You'll never regret the decision to make this change for your family.

It's one that not only makes the most sense financially, but also generationally.

I hope this blesses you like it has our family!

Please feel free to follow our journey on Facebook and Instagram for more tips and sign up for the email newsletter for ways to get the most out of your toxin-free experience!

[jetpack-related-posts]