The One Thing That Won't Fit on Your To-Do List

Let's take a different look at the to-do list.
It's so weird, isn't it?
How we call a "change of heart" something that refers to a sudden act.
Why did she end up going to the event?
She had a change of heart.
Why didn't you choose to accept the position?
Change of heart.
Just like that.
One minute you think one way and then, with the snap of a finger, you've had this total heart change, and you're thinking in a completely different way.
If only it were that simple.
Truth
As Christians we have come to know heart changes as some of the biggest transformations of our lives. And rightly so.
All God wants is our heart.
However, changing the way one's heart feels changes our actions, our speech, our mental thought process.
This, unfortunately does not fit into the world's description of a "change of heart."
A Big Christian Struggle
One of the biggest struggles in Christianity is the waiting.
Oh, the waiting. Then the learning. Then the waiting some more.
Because God doesn't work on our time clock or our will.
Thy will be done.
Not Andrea's.
My Flesh Has a To-Do List
See, my flesh doesn't like this so much.
Why?
I'm a planner. A checklist-er.
I have an end goal, and I either meet that end goal, or I will tomorrow. Or the next day. Or the next week.
Whenever and however it happens, I know that it will all fit together. Nice and neat. Tied up in a little bow. Checked off my list with an immediate gratification.
Groceries-check!
Dishes-check!
Lesson planning-check!
Trust the Lord in all things——–
Trust the LORD
That's a bit different. Let's think: I know when I want it to happen: today, obviously. Okay, okay…maybe by the end of the week to give myself some grace. I do have a lot on my plate. Maybe I won't get to all-out trusting by midnight tonight.
I know how I plan on making this happen: Bible study, prayer, accountability partner.
I set forth. Bible open. Journaling pens poised. Hands folded and head bowed.
I feel great about the work I've done during quiet time on day one. Maybe I'll meet that midnight goal after all. God, thank You for working in my heart! I love you!
Two hours later, I'm at work, and I get a call about making Hudson's next ultrasound appointment. My heart drops but only for a second. That familiar feeling of "what if".
I start thinking about the day I can take off that works with my schedule.
I think about how he'll react to going NPO (not eating until the ultrasound is over).
My mind wanders over to how that first ultrasound looked when we confirmed our baby had cancer. What did it look like again? It's hard to remember now three years out. Best to try to remember  though, so I can watch the screen.
My heart flutters that familiar way it does every six months when I have to schedule the blood draw. The x-ray. Should I go for the x-ray? I hate the extra radiation exposure, but who am I to say I know more than Dr. Dole?
So much for that midnight deadline.
God, Help!
"God, help!"
I take a deep breath. My heart settles. I lean on Him again.
My heart hasn't changed! But I felt so great about my time with God this morning!
What gives?
Why can't I just check this off my list and move on? Even though I really want it with all my heart?
Because God's not done working on me just yet.
Patience
He has lots of lessons. Lots of "Oh, I see…" moments just waiting for me.
To be perfectly honest, I both love and really really dislike this about walking the walk, friends.
I love it because I've been on the other side of a true heart change, and it's huge.
Huger than huge.
It's game-changing big and God reveals Himself in ways that knock me over.
I know what's coming from Him is not just good but the absolute definition of awesome.
BUT.
Not Me But Him
I don't know when. I don't know how. I don't know what I'll have to endure to learn the lessons He knows are best for me.
I don't have control over this situation, and just like that the belief floats away in the breeze, and I'm left bare, raw, and insecure.
The only way to overcome this is calling on Jesus. My Savior. My Redeemer. My King.
And then I realize something.
Instead of rolling through the list of how this is so unfair, and can't God just see I have good intentions? Â 
Can't He give me what I went for that morning during my quiet time with a pure desire to be better for His kingdom?
Can't He just follow my timetable?
I realize that…simply put… it's not about me.
And all about Him.
When I check off my to-do list, I'm the head of my life and my heart.
When I'm empty without Him and can do all things with Him, then and only then has He truly got my heart.
In my weakness He is strong.
So, no. The life-altering heart changes won't fit on that to-do list of ours, but it's okay.
It's more than okay. It's the way it's supposed to be.
To draw us nearer to God in our inability to take on His role. To bring us clarity in only ways He can do. To forever change our earthly life so we can better serve His kingdom in our forever home.
It takes surrender. It takes love. And it takes us on the journey whether we like it or not.
To learn the ultimate lesson: only when we stop grasping for what's in our short sightedness and pray for eyes to see His path can we be changed.
Every hour. Every minute. Every second. I need You.
Praise God, how I need You!
AMEN!!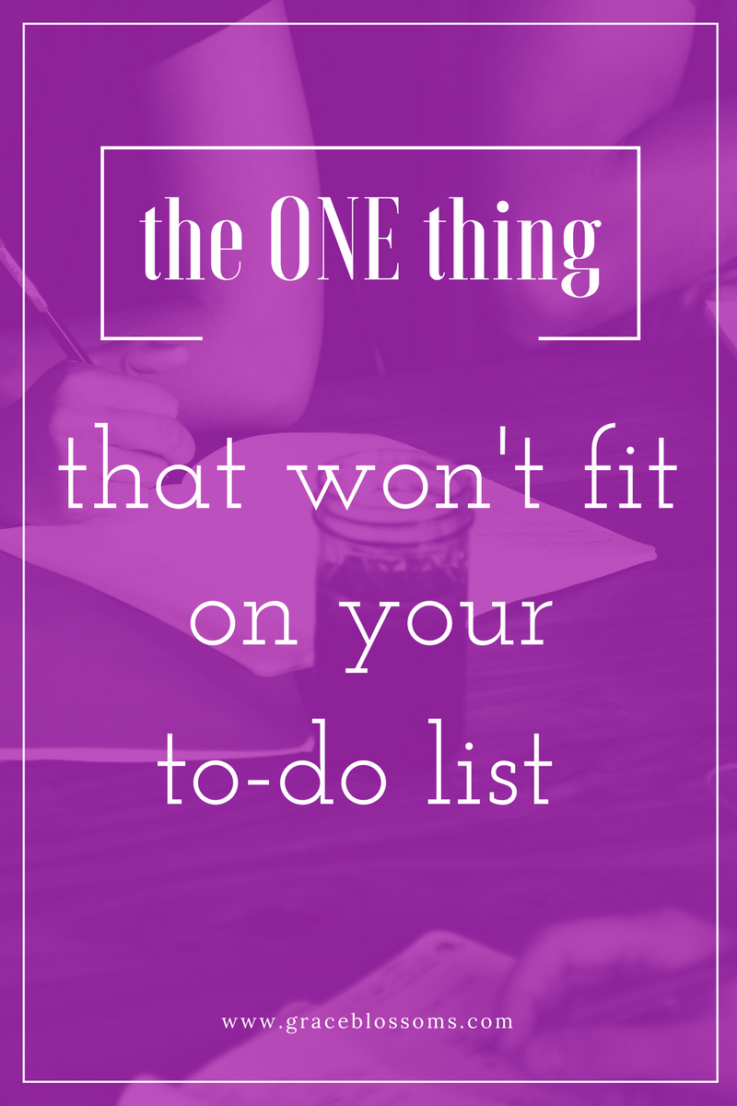 [jetpack-related-posts]