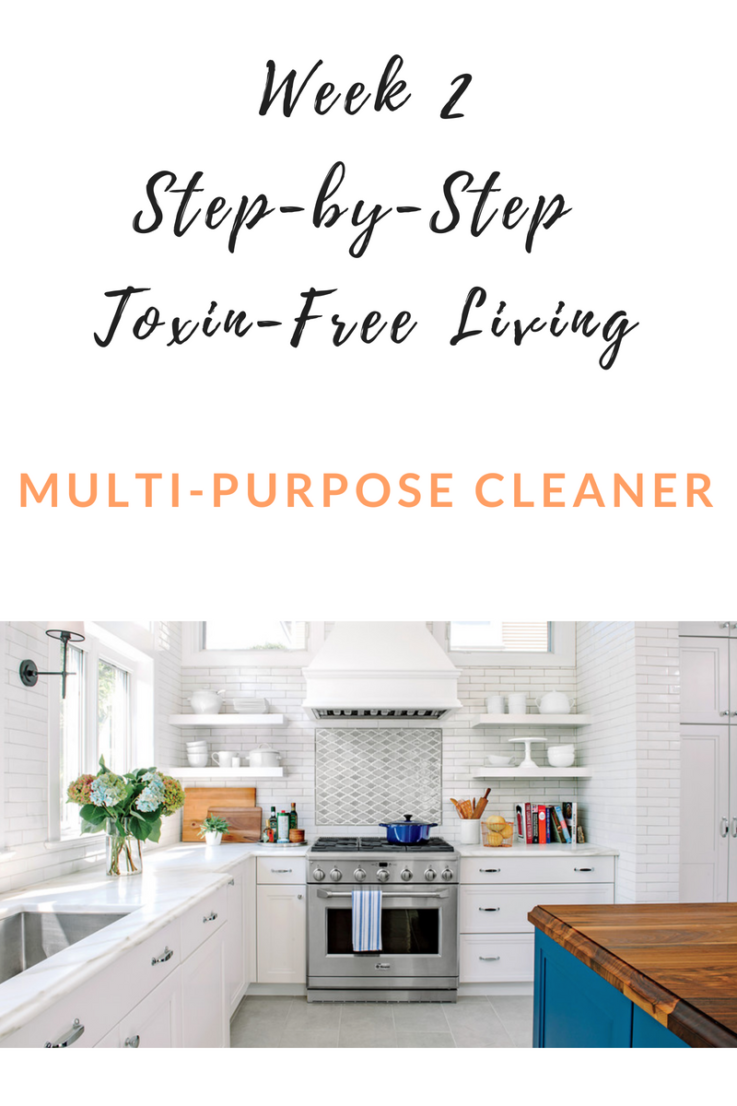 Lets tackle something that will cover lots of your toxin-free bases: Multi-Purpose Cleaner.
BEST OVERALL PICK
While I will provide other DIY options, Thieves Household Cleaner is my number one, overall pick because I have seen its power first-hand and know for a fact that it will never be altered in a way that makes it toxic.
(If you haven't gotten your 24% discount on toxin-free living box and products yet, click here: Young Living Starter Kit)
The best part about Thieves Household Cleaner is that you will see it as an option for the next several weeks.
This means that you will be able to ditch tons of bottles by the end of this series to not only make your home safer, but to save you tons of money!
IN-STORE OPTIONS
I always try my best to give both in-store as well as DIY options.
Unfortunately, there wasn't anything clean enough for me to add in this post when it comes to in-store multi-purpose cleaner.
Feel free to check out other ewg.org rated "A" multi-purpose cleaners that are already put together, but the washing soda is the only option without any possible harm.
POWERFUL + SIMPLE DIY OPTIONS
Below are three DIY options for you.
DIY 1
The first is the easiest, and my choice for our family.
Thieves (concentrated) Household Cleaner comes in two different sizes. 14.4 and 64 oz. In the small bottle, you can make 30+ spray bottles of multi-purpose spray! Just one more reason why this is my top pick!
Recipe
Fill a 16 oz. glass spray bottle, and add 1 capful of Thieves Household Cleaner.
That's it! Enjoy!
DIY 2
The second DIY option is still easy and only takes a few ingredients.
When it comes to adding in essential oils, I chose Lemon and Purification because they are known for cutting grease and creating an overall seriously clean surface.
Recipe
In a 16 oz. glass spray bottle, add the following:
Warm water almost to the bottom of the neck. Leave room for the other ingredients.
1/2 tsp. washing soda
1 tsp. liquid Castile  soap
4 drops Young Living Lemon essential oil
4 drops Young Living Purification essential oil blend
DIY 3
The third and final recipe is one I like if I'm in a pinch because it calls for staples from my pantry that I always have on hand at a moment's notice.
Again, I have chosen the essential oils because oils, and for multi-purpose cleaner use especially, make a typical recipe super powered!
Recipe
1TBS baking soda
1C warm water (from tap is fine)
Mix all three in a 16 oz. glass spray bottle to dissolve the baking soda. Once cooled, add 4 drops Young Living Lemon essential oil and 4 drops Young Living Purification essential oil blend.
Real Life Use
It does make it easy to always choose Thieves Household Cleaner with my 24% discount. Pouring one capful into a bottle full of water? It doesn't get much easier than that for toxin-free living!
It's just so practical and (as you'll see in the coming weeks) useful throughout our home.
How to Get Thieves Household Cleaner
You have three options for how to get this cleaner in your home.
Option 1: Retail
Click the following link to be taken to a page to buy oils: Young Living Oils: Retail. You'll choose the "Retail" or full price option, search Thieves Household Cleaner, choose which size bottle you want, and check out.
Option 2: Basic Starter Kit 24% Discount
The basic starter kit is $45.
It comes with an essential oil blend called Stress Away, a Thieves Household Cleaner sample, and two packets of a wellness drink called Ningxia Red.
You will get your own login and password to shop whenever you feel like it at a 24% discount.
No obligations to buy-ever.
Option 3: Premium Starter Kit 24% Discount
The Premium Starter Kit is $160.
It comes with the following:
Diffuser
Premium Essential Oils Collection;

Lavender 5-ml (sleep, cleaning, skin support)
Peppermint Vitality™ 5-ml (digestion, energy, tension support)
Lemon Vitality™ 5-ml (cleaning, purifying, immune support)
Copaiba Vitality™ 5-ml (overall wellness, intensifies other oils)
Frankincense 5-ml (grounding, wellness, immune support)
Thieves® Vitality™ 5-ml (immune support)
Citrus Fresh™ 5-ml (smells, immune support, digestion)
Raven™ 5-ml (respiratory support)
DiGize™ Vitality™ 5-ml (digestive support)
PanAway® 5-ml (muscle support)

Stress Away™ 5-ml (emotional support)
AromaGlideâ"¢ Roller Fitment
Thieves Household Cleaner 1-oz. sample
2 NingXia Red® 2-oz. samples
You still have no obligation to buy. You still enjoy your discount.

However, I chose this route because it was the fastest way to toxin-free living. You'll notice this week I've added oils as well as last week to my DIY recipes.

That's because they kick the cleaning power up in a big way!

Please feel free to join me on Facebook at Grace Blossoms Non-Toxic Living for extra guidance and ideas as we head into week three. I'll also be posting on Instagram @grace_blossoms_blog with tips in my feed as well with ways to use the weekly guide in my InstaStories!

I hope you are as blessed by this multi-purpose cleaner switch as our family has been.

See

~Andrea 🙂

[jetpack-related-posts]