Fearless
If there's any time I need God's grace, it's when I am mustering up faith in Him to become fearless.
When I don't know how things will work out.
Don't have control over the situation.
Just can't make things go the way I want them to.
When I just. Don't. Know.
Today was one of those days.
Hospital Scare
I was at the hospital for a routine checkup with Hudson.
Our oncologist was saying how the disease he once had, Neuroblastoma, usually ends up okay for kids like him.
One who has favorable genetics, but he wanted to let me know that there could still be some cancer left over in my child.
What do you mean, left over cancer? You said it was out.
Long story short, he was speaking of calcified and dead cancer and also in generalities.
He ended the conversation by saying Hudson is okay and will most likely have a totally normal life expectancy.
I should be fine, right?
I was.
I am.
But the devil totally saw his opportunity to mess with my head.
What if?
Get OUT
Get out, Satan. Not today. Not ever!
My God is greater. My God is stronger. My God is higher than you and your lies.
I know the Truth.
I know God is the ultimate healer, and my son is clean from this disease.
I know that even if something does happen, that the Lord will see us through just like He did three years ago.
But most of all, I know that I don't have to fear anything because I am not a slave to your fear, Satan.
Who I Am
I am a child of God.
I don't have to wallow in the piercing fear that immediately gripped me when Dr. Dole began talking about Neuroblastoma.
I don't have to let myself get caught up in the past trauma of how it feels to be a mother of a very sick child.
I don't have to camp out there, because my identity is not traumatized mother.
My identity is daughter of God– Heavenly Creator and Healer.
He > I
He has done a perfect job of being Him. Walking me through all the pain, all the joys, triumphs, and all the fears.
God's grace goes far beyond what I could ever be capable of doing myself.
If it weren't for grace, He would've been angry that I could second-guess what I know in my heart to be true, and He would've washed His hands of me completely.
But that's just not our God.
He loves so abundantly and so grand– bigger than we can comprehend.
So, instead of kicking me to the curb, He drew me nearer to Him.
I felt myself being drawn up into His arms and comforted.
I know what is true: I can trust You, Lord.
Grateful
Thank You Lord, for being a merciful Father.
Who sees my fears and disbelief and triggers of past pain and uses it to pray, connect, and delve deeper in my relationship with You.
Thank You for being a God whose number one mission is to care for His children.
Sitting here in my motherhood fears, You love me so tenderly that I am able to feel calm and peace in my heart.
To be overwhelmed with Your love through grace, to rest in the fact that You are good.
You are God.
You are Truth.
When I Fail
Is it always my first fleshly reaction to trust?
Unfortunately, no.
I wish I could say that every single time I'm met with adversity I was fearless, but fear does get a hold of me–especially when it comes to my children.
However I never have to live in that fear because I have my Lord and Savior Jesus Christ.
Even More
Because of this, I can enjoy my motherhood. I can enjoy my family. I can enjoy this precious gift of life the Lord has given me. I can be fearless.
Best of all, I can share His grace with you with the hope that you, too can open your heart to it as well.
Never would I ever want to hold all this to myself. It's too big not to share.
It's too amazing.
It's the only thing in this world worth calling perfect: God's love.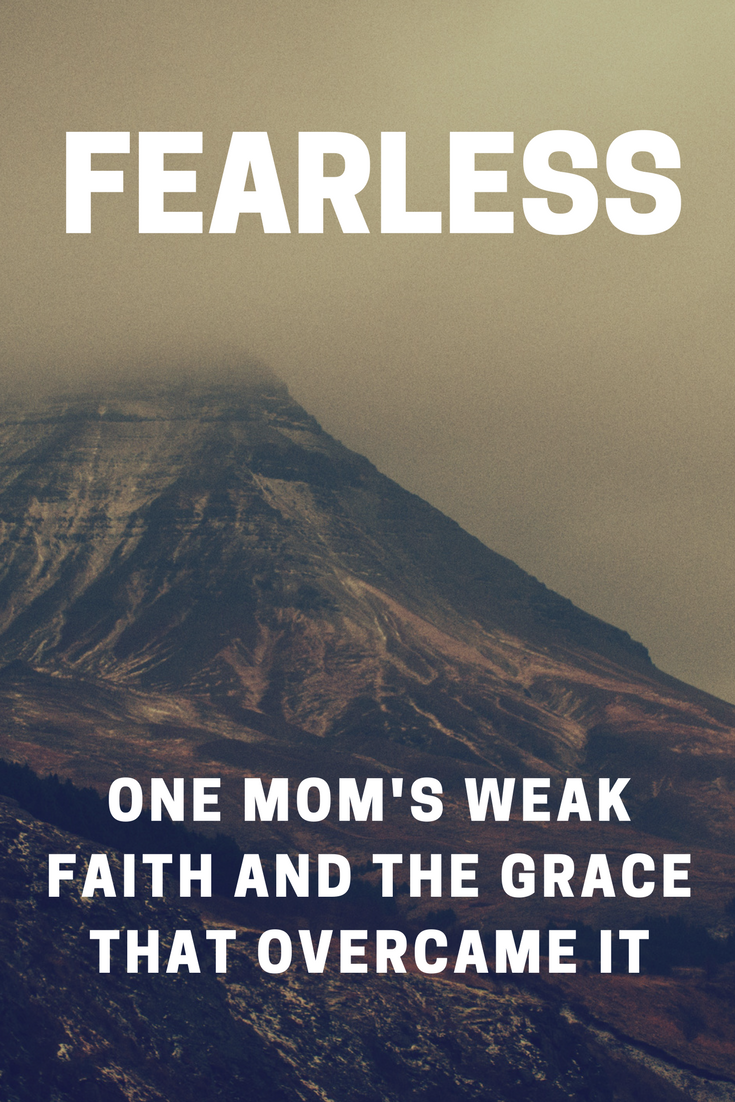 [jetpack-related-posts]