As a little girl, I used to daydream about motherhood.
What would it be like to have a baby of my very own? To hold, change, carry, and snuggle.
What would it be like, I wondered from as far back as I can remember, to be the mommy?
How I hoped I could be like my own mother.
Beautiful, radiant, and glowing as if the whole world depended on her.
Would my children remember certain clothes of mine? Would the smell of my perfume and shampoo immediately give them comfort and stability like I feel when my momma comes near?
What would it be like to give babies of my own a beautiful life? I could hardly wait to find out.
Back then it felt like forever. Like 30 was a lifetime away and the family I dreamed of would take its sweet time getting to me.
Though I used to (force) Emily to play school, I was always (had to be) the teacher, and I knew I was born to educate others, I more so, with every fiber of my being, wanted to be a mother.
Because this is who I am from my very core, this week was both exciting and torture.
When I'm standing in front of my eighth graders I am teacher. When I am in a room with my colleagues, strong, intelligent women whom I adore and revere, I am achieved.
When my phone rings in the middle of class or a text message pops up because Ruthanne needs to know something about Hudson, or when I hunker down in a tiny room twice a day to pump milk for my four-month-old, my heart is lead.
I suffocate under the desire to be momma.
It is most confusing to be this woman who can tackle new standards, 96 students, papers, grades, lesson plans, and meetings yet feel physically, emotionally, and mentally pulled toward diapers, giggles, and forts made of colored-up cardboard boxes.
I get a little excitement bubbling when I think about teaching this next week, starting a new quarter fresh, and being back at it again, but then there's Hudson in the monitor needing me, and Cohen saying hilarious things that pulls even harder in the complete opposite direction.
What do you do when you have to be more people than you can handle?
You just do it.
I cry my eyes out, shove the tears back, and make it happen.
Because Hudson needs my insurance, our student loans need my income, and my boys need a future.
Though it hurts, I have no choice in the matter, so instead, I rely on this verse given to me after we lost our first baby from one of my dear friends:
"Consider it pure joy, brothers and sisters, whenever you face trials of many kinds, because you know that the testing of your faith brings perseverance…Blessed is the one who perseveres under trial because, having stood the test, that person will receive the crown of life that the Lord has promised to those who love Him."
-James 1:2-4
 
You know what's hard? Considering painful things joyful.
But the Lord calls me to do it, so I have no choice, and good thing because it's sometimes the only thing that gets me out the door in the morning.
That trust. That complete and utter trust.
I have to fight to trust. I have to push doubt out of my mind every single day, but it's the trust. Without it, I would be a sinking ship that my children could never learn from or depend upon, and so I lay it at His feet that He will pull me through, and I trust.
God helps me to trust.
Tested is my faith on a daily basis even though I know in my heart of hearts that I do, in fact, trust the Lord with all my heart.
Everything was going so well that I was shocked when I spoke with Dr. Dole Friday about Hudson's MIBG scan report.
I know I should be thrilled, and I am, that it is NOT in his bones, but it's in his marrow, when before we thought it was not.
In his sweet little arms that wrap around my neck as I bounce him to sleep every night.
In his precious legs that are starting to get so adorably chubby.
I stood there as still as I think I had ever been, taking in every detail that the cancer is in more places than we originally thought.
Though characteristic of an 4S, which is the lesser of the two evils (4 and 4S), and his lung nodules did NOT show up on the MIBG report, it still was a surprise.
No, surprise is too happy a word. It was deflating.
Dr. Dole explained MIBG like this:
Imagine you're standing in front of a piece of glass. It is shattered and the person standing behind it is holding a flashlight. You can see that there is a figure and a light, but you can't make out any of the details-how they look, the expression on their face, nothing specific.
That's MIBG. The radioactive isotope that ran through an I.V. into Hudson on the 7th attached to the Neuroblastoma cells in his body and "lit up" also known as "uptake" in the areas of concern.
Though this is good news, it felt like such a punch to the gut. More cancer.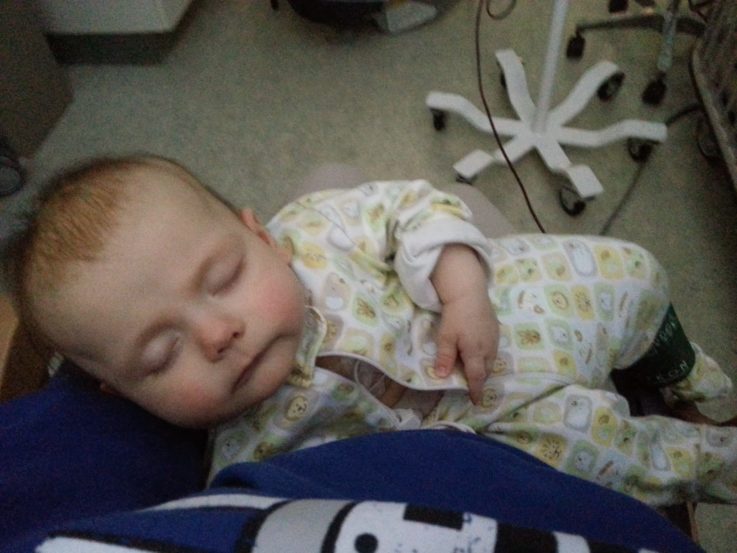 Dr. Dole says this does not change the course of treatment or the outcome, so we are above all praising God that we received that news. Plus, he reminded me, the genetic testing came back low risk, and that is something we have to hold onto.
From one to another we moved onto his blood work. CBC reports, they call them. The numbers for where Hudson stands in terms of red blood cells (hemoglobin), white blood cells, and platelets.
While he was receiving his Pantam, a drug used after his chemotherapy to fight the risk of pneumonia , the CBC results came back.
White blood-good.
Platelets that should be 140,000-Hudson's 9,000
Hemoglobin that should be 11-Hudson's 7.4
The other day I got him out of bed and I knew something was off, but couldn't quite put my finger on it.
In hindsight, it was his coloring. He was pale. I remember actually thinking he was going to end up with my skin tone, as I am more fair-skinned, but having this nagging feeling in my gut that told me it was more.
I should have listened to my gut.
I should have gotten him to the hospital immediately for a transfusion, but I didn't.
Lesson learned.
An even bigger lesson-he woke from his nap before heading to the clinic Friday with a bloody nose.
Knowing now that his platelets are what keep him from bleeding, of course he had a bloody nose.
My poor baby. The guilt seeps in and resides in my heart.
Momma is so sorry, Hudson.
I am so thankful for those who donate blood.
How your view on blood donation can change in the blink of an eye when it's your baby boy hooked up to someone's selfless donation.
A little of their time for a lot more time with Hudson.
I can't move past how selfish I had been claiming I was "too wimpy to give blood." Not anymore. Nope. Never again.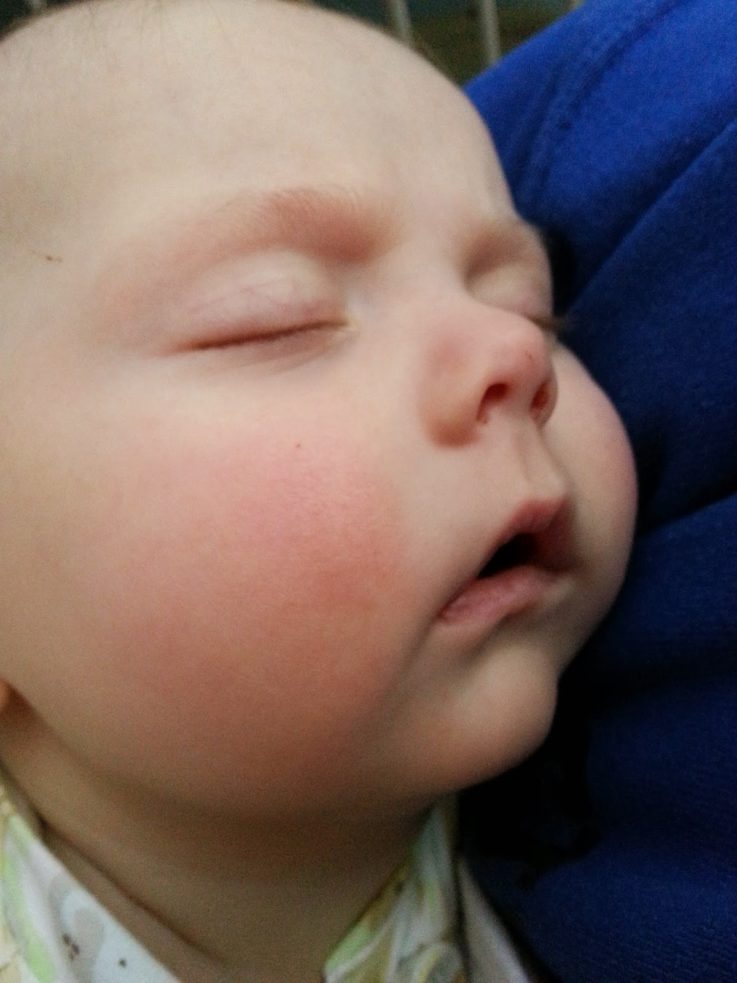 Saturday we had to monitor Hudson to make sure he didn't dehydrate, and I am so glad we did because he woke Saturday morning with another bloody nose.
After talking with the oncologist on-call, we were told to watch it, and if it bled again, we'd have to go to the hospital for labs to see where his counts were. Thankfully that never happened.
Tuesday is our next check up and another CBC report will be run.
PRAYER REQUESTS:
~Wonderful CBC report. If they are low again, there's a chance we may have to do an overnight stay
~Chemotherapy continues to fight this cancer 
~That he'll not need any more chemo after his February appointment
~A good week at school trying to juggle mommyhood and teacher

PRAISES:
~Our pediatrician, Dr. Kohsla, who checks in on me a few times a week. She doesn't know what that means to us. She is such a blessing to our boys and our family.
~Hudson nor I caught the flu that ran through the house just a week ago!!
~Dr. Dole, for his honesty, intelligence, and kindness about everything concerning Hudson and our family
~A short work week this week!!
~LexisNexis family for their generosity that left us standing in the kitchen speechless.
~My Bible study on revival…the Lord has so much work to do in my heart!
~Diapers donated with loving hearts in response to my Facebook post. I asked for donations to our Home Care for babies whose parents cannot afford to change their diapers in a timely manner during Chemotherapy. After seeing what it does to Hudson as he is changed every hour, we cannot fathom what those babies go through. We fly through over half a box in the 48 hour period of hourly diaper changes. THANK YOU for your kindness. We pray we can continue to help support those babies in the coming months in a multitude of ways.
Thank you for sharing in this story with us. We pray it can bring you hope if you're going through something similar.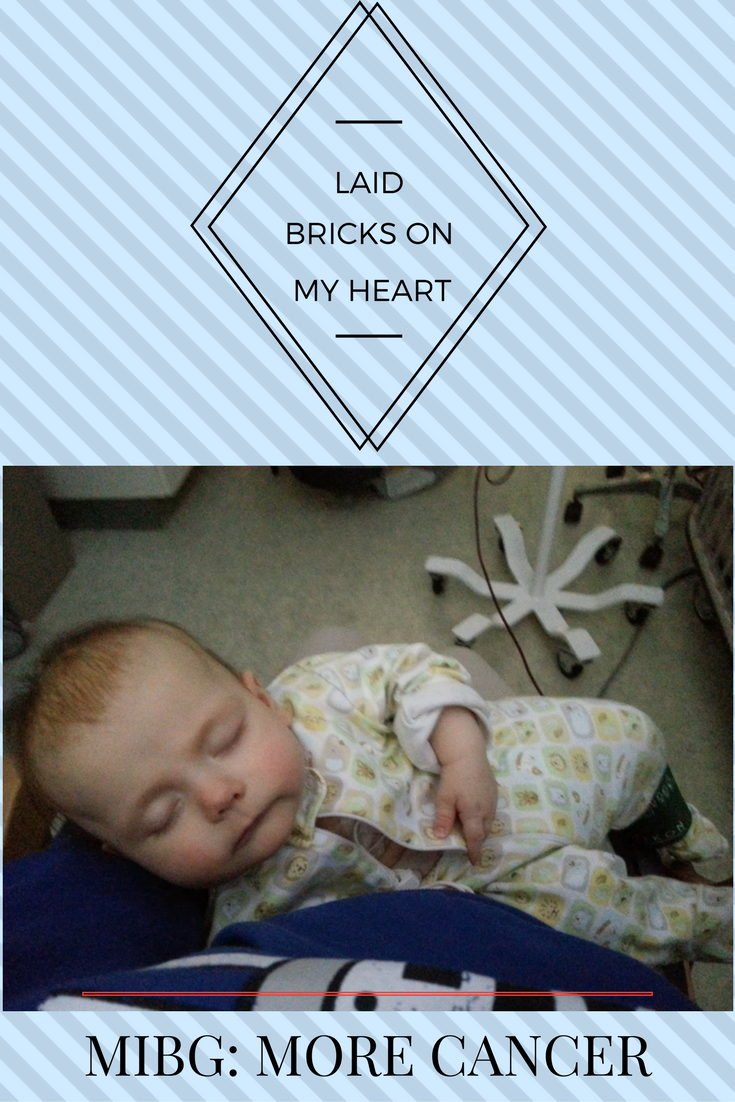 [jetpack-related-posts]